Educational Improvement and Reform
The Center for School and Community Services supports educational reform in a variety of programs and initiatives. Some of these address improving specific programs, while others focus on whole-school change and building reflective school communities to foster the healthy development and high achievement of all students. The Center has worked at all levels of schooling. Current and recent educational reform projects and evaluations are described below.



---
Alabama Mathematics, Science and Technology Initiative: A Project of the Southeastern Regional Laboratory (2006-09)
As part of the consortium of organizations awarded the contract to constitute the Southeastern Regional Laboratory (SE-REL), we collaborated on an evaluation of the Alabama Mathematics, Science and Technology Initiative (AMSTI), a series of professional development modules and resource kits for grades K-12 employing a hands-on and technology-based framework to the teaching of mathematics and science. In January 2006, 20 schools were randomly assigned to a control group and paired with an experimental group of 20 randomly selected schools. In total, 300 teachers participated in the intervention, along with their math and science students; in year two, 36 randomly selected schools joined the study. The Center took primary responsibility for tracking teacher instructional practices using teacher logs (both quantitative and qualitative), conducting interviews with principals and regional AMSTI leaders, conducting classroom observations with follow-up teacher interviews, and observing AMSTI professional development.

---
BEE 21 and Inventing the Future Evaluation (2006-07)
The Center conducted a mixed-method evaluation of two Cloud Institute programs that seek to inspire young people and their teachers to think about the present and the future world in sustainable terms. The "Inventing the Future" curriculum seeks to inspire hope in children by improving students' critical thinking skills, including their ability to read and write critically with an awareness of multiple perspectives, and changing their relationship to their community and their sense of efficacy in bringing about change. The BEE 21 program, as it becomes integrated into business education courses, offers students a way to understand the concept of sustainability and its application in business practices. Presently, these two programs are implemented in 100 public high schools in New York City. Our evaluation addressed issues such as the school and individual factors that are effective in implementing the curriculum; which skills teachers acquire through professional development; whether additional supports are necessary to improve delivery of the curriculum; how barriers might be overcome; the ways in which teachers use the programs; the outcomes of the programs; and the strategies needed to expand the use of these programs within New York and elsewhere.

---
Citi Postsecondary Success Program (2008-13)
In partnership with the Public Education Network (PEN), the Center is working with CPSP sites to develop approaches to improving outcomes for low-income, first-generation students with the goal of increasing the number of these students who go on to, and succeed in, postsecondary institutions and job-training programs. Additional objectives of the project are to develop a partnership model for promoting postsecondary access and success that includes programs shown by research to have worked at all high school grade levels and to enhance the overall postsecondary access and success field by strategically communicating replicable and scalable best practices to public officials, policy makers and other key stakeholders at the local, state, and federal level. CPSP will operate in the Tier 1 Citi markets of Philadelphia, Miami, and San Francisco.

---
Collaborative for Education Organizing (2008-09)
This project entailed evaluation of and technical assistance to the Community Foundation for the National Capital Region's (CFNCR) new Collaborative for Education Organizing (CEO). This is one of the three collaboratives formed by CFNCR whose mission is to raise philanthropic capital to focus on issues that impact the quality of life of the DC community and ultimately to achieve reform in education, leadership development for equity, and workforce development. CEO, the first of these collaboratives seeks to create a movement for education change. Through community organizing with nonprofits and educators, a major goal is to double the number of college-ready high-school graduates in the District of Columbia. The Center served as the lead evaluator of CEO's work and of the progress of its grantees toward meeting the community organizing goals and bringing about change in education policy in DC.

---
College Access in New York City Gates-Funded Schools (2006)
The Center undertook a study of college access services provided by New York City public schools funded by the Bill and Melinda Gates Foundation. The report was undertaken to inform the foundation on its current grantmaking both in New York City and nationally. As directed by the Foundation, the "scan" of college access services focused on postsecondary access and success strategies at Foundation-funded schools as well as the broader approaches within their intermediary organizations. A primary aim of the study was to enhance understanding of the current postsecondary access climate for students, as well as to pose recommendations and questions related to postsecondary opportunities and challenges. In total, our scan yielded data on the nine intermediary organizations and their over 100 Foundation-funded schools through intensive interviews with staff from the nine intermediaries. Intermediaries included the College Board, Expeditionary Learning Outward Bound, Good Shepherd Services, the Institute for Student Achievement, and New Visions.

---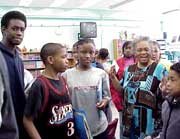 Community Collaborative to Improve Bronx Schools Evaluation
(2004-09)
The Center evaluated the Lead Teacher Project (LTP), which seeks to improve instruction, student achievement, and teacher retention in 10 schools—seven elementary schools, two middle schools and one K-8 school—in New York City using a teacher leader approach to teacher professional development. LTP was developed by a coalition of community-based organizations in the Bronx and a university partner (the Community Involvement Program at the Annenberg Institute for School Reform), which has been working for a number of years with parents and community members to improve schools in the area. Through LTP, exemplary teachers are recruited and placed in the 10 schools. These lead teachers teach in their own classrooms for half of the week and spend the other half assisting other teachers to improve instruction through demonstrations, coaching, sharing of resources, etc. AED's evaluation entailed a five-year study of the 10 schools, including an intensive study of five schools, using surveys, observations, interviews and comparison of the five schools with matched schools.

---
Expanding New School Development Capacity (2008-2013)
Support from the New York City Department of Education enabled the Center to build its capacity to be a new school development intermediary for New York City Public Schools. Specifically, the grant supported the development of a set of principles and related practices to create new, small middle schools. Accompanying the school design model will be a detailed strategy for technical assistance to new schools. In addition, AED is developing a 5.5 year strategy and related work plan to support the main stages of the New York City Department of Education new school development process, including school planning team recruitment and selection; technical assistance in new school portfolio application development and interviews; and new school opening. Lastly, AED is supporting the Global Neighborhood Secondary School, a new school that opened in September 2008. This work includes providing support with teacher and staff recruitment, the summer bridge program, developing an advisory and overall youth engagement strategy, and creating a technology vision and platform for the school. In this support, AED is working with the school principal and the CBO partner (the Community Association of Progressive Dominicans), and other partner organizations.

---
High School Reform Initiative (2007-08)
In partnership with MDRC and Policy Study Associates, the Center undertook a study to inform the Gates Foundation, the New York City Department of Education, and other key stakeholders about whether their investment produced measurable benefits for the young people they aimed to serve. Specifically, this study investigated the organizational, instructional, and student support practices found in Gates-funded schools to examine if and how these practices differed from those found in non-funded schools and the role the different intermediaries played in promoting and sustaining these practices.

---
Institute for Student Achievement Evaluation (2003-08)
The Center conducted a five-year outcomes study of the Institute for Student Achievement's (ISA) high school reform initiative. The initiative supports small learning communities comprising a cohort of students and teachers in grades 9 through 12 and includes intensive counseling, a rigorous college-prep instructional program, postsecondary planning, extended-day and -year programming, parent involvement, and on-site professional development. Our longitudinal study assessed the initiative as two cohorts of students (in September 2003 and September 2004) proceeded through high school and beyond. It focused on the program in six schools—five in New York City and one in the New York City suburbs—that used the six nonnegotiable ISA principles as a framework for changing school climate, culture and instruction.

---
Know How 2 Go Technical Assistance Initiative (2008-09)
The Center and the Public Education Network collaborated on a 10-month project to support the Lumina Foundation's Know How 2 Go (KH2Go) initiative. A key premise of KH2G is that youth who have traditionally not enrolled or succeeded in postsecondary education need the sustained support and guidance of caring and knowledgeable adults from a wide variety of institutions (including K-12 systems, postsecondary institutions, college access programs, CBOs focused on youth development, and faith-based institutions).Specifically, the project addressed the capacity building and professional development needs of the KH2GO ground campaign, which supported a college access media campaign in 14 states or regions. The Center developed a theory of change for a longer initiative, as well as a knowledge-management and networking process, including building a learning community among participating sites.

---

Middle Start (1994-present)

An educational reform program for schools with middle grades, Middle Start combines on-site support to schools with the development of regional partnerships of schools and local organizations. The Center directs the Middle Start National Center and provides leadership for the development and management of Middle Start professional development and coaching, regional partnerships and school networks, policy education and public engagement, and research and evaluation. Begun in Michigan in 1994, Middle Start expanded in 1999 through a partnership with the Foundation for the Mid South to middle-grades schools in Arkansas, Louisiana, and Mississippi. As of 2007, Middle Start has worked with more than 460 schools, including intensive engagements with 110 schools and their school districts (nearly 40,000 middle-grades students). Currently, the Center is working as a partnership support organization, funded by the New York City Department of Education, with 14 schools in New York CityMiddle Start was named a promising school improvement intervention in Focus on the Wonder Years-a Rand Corporation Study. It was also cited in the Northwest Regional Educational Laboratory's Catalog of School Reform Models and on the Southwest Educational Development Laboratory's list of most implemented CSR approaches in the United States Middle Start is ranked among the top 10 percent of comprehensive school reform models in the country.

---
Mississippi Learning Institute Evaluation (2003-08)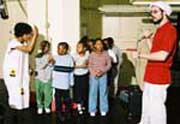 A four-and-a-half-year study of a collaboration among Jackson State University, the Jackson Public Schools (JPS), the Mississippi State Department of Education (MSDOE), and the Barksdale Reading Institute to improve reading programs and outcomes in the city's public schools. The Center studied the process through which the partnership achieves its goals and several outcomes, including teacher knowledge of reading theory and practice, the quality and impact of professional development, and changes in classroom practice related to the improvement of reading instruction and in student academic outcomes.

---
National Writing Project Reading Initiative (2003-06)

The Center evaluated the NWP Reading Initiative, which designs and fosters professional development in reading comprehension strategies as a companion to its work in the teaching of writing, focusing on teachers who work with students in grades 4-12 across all subject areas. The NWP Reading Initiative seeks to build the same commitment to, enthusiasm for, and knowledge of reading comprehension strategies that writing project teachers currently demonstrate in the teaching of writing. Our evaluation studied the various approaches used by sites to implement its reading initiative and the local context and how it affects these approaches, as well as the impact of NRI in terms of building and expanding professional development resources and developing the capacity of the network to deliver high-quality professional development addressing reading.

---
Partnership Support Organization (2007-12)
With support from the New York City department of Education, the Center is working as a partnership support organization with 14 New York City public schools on improvement efforts drawing on our 16 years of experience with Middle Start--a comprehensive school transformation program for schools with middle grades (see Middle Start under "Comprehensive Initiatives" in the next section). The FHI 360 PSO empowers schools by customizing programs and services to their unique needs and interests. For example, with our support, schools are addressing the following five practice areas: making smart use of data regarding student learning; understanding adolescent development and its implications for teaching and learning; creating small learning communities and teacher teams; building collaborative approaches to leadership, parent engagement, and support for students; and embedding professional development into ongoing improvement.

---
Partnerships for College Access and Success (Lumina Foundation for Education; 2003-08)
In this project, the Center worked to improve college access and degree attainment among underserved populations through a grant-making and technical assistance initiative targeting students who were first-generation in college, low-income and adult students, and members of racial and ethnic minorities. During the first two-year cycle,(2003-05), we awarded planning and implementation grants to seven local partnerships of four-year and community colleges, technical schools, high schools, CBOs, businesses, and civic groups. In the last two years, we provided technical assistance to the partnerships, to help them oversee the implementation of local projects, share lessons learned across grantee sites, and ensure the sustainability of the work beyond the period of the grants. This work led to the development of a toolkit of promising practices and resources to help partnerships across the county implement similar programs: Partnership for College Access and Success: A Technical Assistance Guide, Toolkit and Resource Guide (2008). Section 1 (PDF), Section 2 (PDF), Section 3 (PDF).

---
Playtime is Science for Students with Disabilities (2006-07)
Playtime is Science for Students with Disabilities prepared classroom teachers from seven to eight sites in District 75 (a citywide special education district) in New York City to implement Playtime is Science for Students with Disabilities (PSSD), a hands-on, minds-on science program designed to help students to feel enthusiastic about science, learn content in the physical sciences, participate in fun literacy activities, think of themselves as scientists, and have a great time with content rich activities. Each of the 10 core activities contains modifications and strategies for working with students with a variety of disabilities and is appropriate with students in special education programs.

---
Promoting Change in Conditions that Impede Effective Leadership in K-12 Public Education on the State/District Levels (Wallace Foundation, 2007-09)
In this two-year initiative, the Center built on its recent Wallace Foundation-funded work on "conditions change" to support effective leadership in education. The prior work resulted in the development of research-based rubrics, workshops and resource materials titled, Conditions that Impede or Support Effective Leadership: Guidelines to Promote Reflection and Action, and an initial pilot-testing of the rubrics with two states. In the next phase of the work, we revised the rubrics and selected six states and selected districts to use them to promote changes in conditions that affect leadership effectiveness. The Center provided technical assistance in the use of the rubrics to promote powerful discussions and the development of action plans; convened a community of practice among the six states and original pilot states to discuss challenges and progress in changing conditions that affect governance, data- informed decision making, and human and financial resource allocation; and documented progress in this work in the six states.

---
Reaching Science and Special Education Teachers: On-Line and In-Person (2004-06)
This project provided vital information and teaching strategies around inquiry-based science for students with disabilities. The target audience was K-4 science and special education teachers. The overarching goal was to enable students with disabilities in grades K-4 to fully participate in science, learn skill-building activities, and gain positive attitudes about science that may influence later school and career choices. Core activities included professional development seminars offered on-line and at national conferences. The seminars built on Playtime is Science, an NSF-funded, standards-based science activity program that includes modifications for students with disabilities. Project partners included the Council for Exceptional Children and Science Education for Students with Disabilities, a National Science Teachers Association Associated Group.

---
Schools for a New Society Technical Support Team (2000-06)
Schools for a New Society (SNS), the Carnegie Corporation of New York's $60-million initiative designed to reinvent high school education in seven urban communities, was committed to building partnerships between school districts and their communities to transform high schools into communities that offer excellent conditions for teaching and learning, for all students.

SNS was one of the first national district-change initiatives at the high-school level. By enhancing school capabilities, strengthening school districts, and engaging and connecting the community, the primary SNS goal was to ensure that all young people have equal access to an excellent education that prepares them for postsecondary education, an increasingly demanding workforce, and engaged and active citizenship.

The Center, in partnership with the Annenberg Institute for School Reform, Community Involvement Project, and Collaborative Communications Group, led a nationwide technical assistance network for the initiative.

Our technical support team supported the seven SNS sites in two major ways.
Providing direct consultation and support to each site to select strategies for comprehensive secondary school reform; foster stable and effective leadership; and identify and mobilize existing strengths in communities to create a sustainable secondary school reform movement.
Developing a "Learning Network" among the sites to ensure that problems are jointly addressed and that the sites' knowledge and successes are widely shared. Learning Network activities include a large cross-site "Learning Institute" and smaller topical and regional meetings, as well as the development of a listserve, website, and resource database.
Since the program's inception, funded SNS districts have divided large high schools into small learning communities and/or started new small schools to provide personal attention to students; revamped curricula to make schools more engaging to adolescents; and forged new partnerships with businesses and community agencies to provide opportunities for out-of-school learning and support sweeping changes in high schools.

---
Teacher Leaders for Mathematics Success Evaluation
(1999-2004)
The Center conducted a five-year evaluation of the Teacher Leaders for Mathematics Success (TL= MS) program, conducted by Lehman College, in collaboration with the six Bronx community school districts. The project sought to build the capacity of Bronx teachers and schools with rigorous, standards-based mathematics curricula to support continuous improvement in mathematics education for all students, aligned with city, state, and national standards. We investigated the program's impact through surveys of teachers and administrators; interviews with administrators and teacher-leaders; focus groups with groups of students; and observations of classrooms and professional development activities. In summary, AED's evaluation determined that TL=MS teachers gained math knowledge and skills and outperformed a nationally representative sample of teachers. TL=MS also had strong positive effects on students' engagement in mathematics instruction and achievement.

---
Sustaining ISA High School Reform among Partner Schools (2008-09)
In this project, the Center developed a plan for sustaining reform among high schools participating in the Institute for Student Achievement's (ISA) high school reform initiative. In this work, we undertook the following activities: a literature review; interviews with sustainability thought leaders, key district informants, and parents; site visits to ISA schools in Atlanta, New York City, and Peekskill, NY; analysis of extant parent survey data; and financial analysis of models for sustainability of high school reform efforts. Major deliverables included a final report and presentation to the ISA Board and benefactors and a white paper on sustainability, summarizing lessons from the field as well as lessons particular to the ISA model.

---
Washington, D.C. Public Schools' Secondary Transformation (DC Public Schools, 2007)
Through our Middle Start National Center, we assisted the D.C. Public Schools (DCPS) middle and high school improvement efforts, supported by the Bill & Melinda Gates Foundation. At the central office level, we worked with the newly established Office of Secondary Transformation to assist the district in establishing a vision of and support for effective middle-grades education. At the school level, we provided professional development, and leadership development to 18 middle-grades schools, including seven junior high schools and 11 middle schools. The Center used key components of AED Middle Start Program, including the School Self-Assessment Survey which was administered to hundreds of middle grades teachers and students, and helped to elicit important perceptions about school climate, teaching and learning and leadership, and to inform DC's reform agenda and school plans. Beyond district and school level work, the Center worked with the Office of Secondary Transformation to develop a strong and expanded partnership among an array of local education and social organizations. Under the banner of "Double the Numbers," these groups focused on changing practices and policies in order to significantly increase the numbers of DC students graduating high school prepared for college, careers, and productive community engagement.

---