Youth Engagement and Service Learning
FHI 360's Center for School and Community Services has worked with many programs and projects geared to the healthy and positive development of youth. These programs take an "assets," rather than a "deficit" approach to helping youth, fostering their active involvement in their own development. See also the "Youth" page on FHI 360's website.

Two Social Policy Research Associates publications on youth media available. The first, Youth Media's Impact on Audience and Channels of Distribution (PDF), offers a framework for measuring the impact of youth media on individuals and systems. The second, Youth Media Evaluation Toolkit (PDF), guides youth media organizations through the process of planning and evaluation, conducting the evaluation, and analyzing the data to inform and improve practice. It includes sample evaluation tools and helpful worksheets. PDF youth media evaluation toolkit here. For additional information about these resources please contact Nelda Brown at nbrown@fhi360.org.

Much of the youth engagement work of the Center for School and Community Services is carried out by our Youth Development and Engagement Team The team provides technical assistance, training, convening opportunities, and other services and resources to organizations and projects that give young people a voice, value, and visibility in their efforts to address the important and challenging issues in their communities and the country as a whole. To learn more about our Youth Development and Engagement Team, contact Nelda Brown.

BEST Initiative Evaluation (1999-2002)
An evaluation of Building Exemplary Systems for Training Youth Workers, an initiative of the National Training Institute for Community Youth Work to help communities build comprehensive systems for youth worker staff development based on the former AED's Advancing Youth Development curriculum. BEST Strengthens Youth Worker Practice: An Evaluation of Building Exemplary Systems for Training Youth Workers (PDF).

---

Campaign for the Civic Mission of Schools
(2003-08)
The Campaign worked with a coalition of 40 organizations to renew and elevate civic education in the schools. The purpose of the Campaign was to bring about changes in state, local, and national policy to implement the recommendations in the Civic Mission of Schools report, published by CIRCLE and the Carnegie Corporation. The Campaign operated on two advocacy tracks: one at the federal/national level and the other directed to selected states. At the national level, it targeted policymakers in Congress and the administration, the national media, and opinion leaders, as well as the public. At the state level, advocacy was in the hands of 18 grantees, selected from the 43 states responding to the RFP.



---
McCormick Foundation Youth Media & School Leadership Academy (2008)
In this project, the Center addressed two of America's most pressing needs--improving the performance of our public schools and strengthening the quality of our civic discourse. With McCormick's support and guidance, and in collaboration with the Five Freedoms Project, we provided 15 middle and public schools with a framework for school leadership, media advocacy, and community engagement grounded in First Amendment principles. Each school was represented by a team of three--the principal, the media adviser, and a student leader with a strong interest in youth media. Principals and school media advisers were chosen from a selective application process limited to the state of Illinois. The student leaders were chosen by a letter of interest and peer-selection process after the winning principal/adviser teams have been named. The inaugural class of 45 "McCormick Freedom Fellows gathered for five days of training and discussions at the Freedom Museum and a nearby conference facility in downtown Chicago. We managed the youth media component of this work, coordinating and developing the training of the student leaders. These student leaders were expected to bring back the knowledge acquired at the training and share new ideas and techniques with other students interested in learning more about youth media, leadership, and the First Amendment at their schools.

---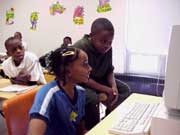 New Jersey School-Based Youth Services Program Evaluation (1995-1999)
A multiphase evaluation of the New Jersey School-Based Youth Services Program (SBYSP), which provides a comprehensive range of support services to youth and their families in 29 school-based centers throughout the state. The first phase of the Center's evaluation included an analysis of the political development and evolution of the SBYSP initiative and an extensive cross-site implementation analysis; the second phase entailed an intensive outcomes-based study of SBYSP, following the progress of the incoming 1996-97 ninth-grade cohort in six selected sites. Report available (PDF).

---
National Service-Learning Partnership (2002-10)
The Center sponsors the Partnership, a national membership organization bringing together practitioners, administrators, policymakers, researchers, community leaders, parents and young people to support K-12 service-learning. The Partnership is dedicated to advancing service-learning as a core element of the educational experience of every elementary, middle, and secondary school student in the United States. It offers a variety of information services and educational opportunities, including a monthly electronic newsletter and a website (www.service-learningpartnership.org), to keep its over 9,500 members connected to the latest ideas and developments in the field. The Partnership helps this diverse group acquire the skills and resources needed to become effective service-learning advocates. It also works with educators, youth development specialists, government officials and funders to help them understand the value of high-quality service-learning and how to foster its growth.

NSLP later expanded its work with two exciting initiatives—the Service-Learning Leaders Circle and the Emerging Leaders Initiative, both geared to leadership issues within the field. The Learning Circle support ed collaborative efforts between service-learning organizations that expand ed the communications and constituency-building efforts of the service-learning field within in the United States. The Emerging Leaders Initiative expand ed and diversified the current leadership of the service-learning field to include a new generation of young, more culturally diverse leaders and to ensure a stronger connection between service-learning and broader social change efforts.
---
New York City Beacons Initiative Evaluation (1997-2001)
An evaluation of the New York City Beacons, school-based community centers run by not-for-profit agencies providing a range of activities for children, youth, and families. The evaluation included an overview study analyzing the evolution of the initiative, an implementation study documenting how the vision was transformed into action at individual sites, and an outcome study of six sites. (For more information about the Beacons, go to the website of the Fund for the City of New York. Report available (PDF).

---
Young Adult Capacity Initiative (YACI) Evaluation (Fund for the City of New York; 2003-06)
The Center evaluated this initiative, which focused on the capacity-building of 13 organizations funded to address the needs of youth aged 16 to 24 who are "disconnected from family, school, and employment and other essential supports." The funded organizations provided a wide range of supports and opportunities for helping youth build relationships and develop social, academic, and career-related skills. YDI identified the key short-term outcomes as 1) youth attachment to the program; 2) youth participation in skill-building activities; and 3) reduced obstacles to youth participation in the program. Long-term outcomes included 1) continuation of education and achievement of a GED or high school diploma, 2) entry into an institution of higher education, and 3) employment on the part of youth.

---
Youth Innovation Fund (W.K. Kellogg Foundation, 2002-07)
The National Service-Learning Partnership created the Youth Fund to support young people, in partnership with community institutions, in addressing public issues and problems using a service-learning framework. Through the Youth Fund, young people are positioned as investors of financial, social and intellectual capital as well as conveners, advocates and evaluators of community change agendas. The Fund fosters their engagement in civic inquiry and action, ranging from youth grant-making and youth governance, to youth social entrepreneurship, youth media and youth organizing. In July 2003, the Partnership and the Youth Fund Advisory Council reviewed over 215 applications and selected eight Youth Fund sites in Chicago; Cleveland, MS; Hampton, VA: Nashville, TN; Portland, ME; Portland, OR; San Francisco; and Ypsilanti, MI. Since then, each site created a Youth Board, supported by a site coordinator and a local consortium of organizations. The Youth Boards completed an in-depth analysis of their communities to understand pressing issues and power structures, and to identify opportunities for youth engagement. Boards then made grants for youth-directed civic action projects addressing the root causes of the issues identified. For more information, visit www.youthinnovationfund.org.

---
Youth Media Reporter (2006-08)
In 2006, the Center became the new managers of Youth Media Reporter (YMR), an online professional journal started by Open Society Institute to sustain and "grow" the youth media field. Youth Media Reporter is the only journal that serves media professionals in the youth media field. YMR is a monthly, on-line professional publication, which strives to sustain and develop the youth media field by covering its topical issues, trends, and challenges. YMR seeks to build the youth media field by documenting the work produced by and for young people in video, film, television, radio, music, web, art, and print. The publication offers media professionals a forum to share information, reflect on work done in the field, develop practice, ascertain new approaches and pedagogy, and celebrate youth led social change. Recognizing that many youth media practitioners come from a variety of fields, YMR includes all perspectives, viewpoints, and topics.

---